California Birth Records
How to Order Birth Certificates in California
Birth certificates for the state of California are handled by the California Department of Health Services Office of Vital Records. Their records begin in July 1905.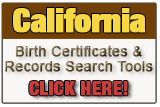 Effective July 1, 2003, there are two types of certified copies of birth records:
A Certified Copy is a regular certified copy identical to those issued prior to July 1, 2003 and can be used to establish the identity of the person named on the certificate. Only authorized persons can obtain a Certified Copy and a notarized Sworn Statement (form included with application) must be provided. If you request a Certified Copy by mail without the Sworn Statement, it will be rejected as incomplete and returned to you without being processed.
A Certified Informational Copy is a regular certified copy which contains a legend across the face with the statement "INFORMATIONAL, NOT A VALID DOCUMENT TO ESTABLISH IDENTITY." Persons who are not eligible to receive a Certified Copy can receive a Certified Informational Copy. You do not need to provide a Sworn Statement to receive a Certified Informational Copy.
According to law, an authorized person is:
"The registrant (person listed on the certificate) or a parent or legal guardian of the registrant;
A party entitled to receive the record as a result of a court order, or an attorney or a licensed adoption agency seeking the birth record in order to comply with the requirements of Section 3140 or 7603 of the Family Code;
A member of a law enforcement agency or a representative of another governmental agency, as provided by law, who is conducting official business. (Companies representing a government agency must provide authorization from the government agency.);
A child, grandparent, grandchild, brother or sister, spouse, or domestic partner of the registrant; and
An attorney representing the registrant or the registrant's estate, or any person or agency empowered by statute or appointed by a court to act on behalf of the registrant or the registrant's estate. (If you are requesting a Certified Copy under a power of attorney, please include a copy of the power of attorney with the application form.)"
You must be at least 18 yeas of age and provide proof of your identity in the form of a copy of a valid government-issued photo ID, such as your driver's license, state-issued identification card, government issued employment identification, or passport. Enlarge the copy of your ID and lighten it if needed to ensure it is clear and readable. Sign underneath it to verify that you are the requestor. If you are not ordering your own birth certificate, please make a notation on the copy of your ID of y our relationship to the person whose birth certificate you are requesting. Enclose a copy of any legal or supporting documentation such as guardianship papers or marriage license or certificate.
Please download the California birth certificate application and fill it out and mail with payment and a copy of your photo identification to:
California Department of Health Services


Office of Vital Records - M.S. 5103
P.O. Box 997410
Sacramento, CA 95899-7410
If you are sending by courier that requires a physical address, send to:
California Department of Health Services
Office of Vital Records - M.S. 5103
1501 Capitol Avenue
Sacramento, CA 95814
The fee for a birth certificate is $14. Please do not send cash. Personal check or certified funds only.
Please call (916) 445-2684 prior to mailing to ensure that the fees have not changed since the publication of this document.
Additional information:
There is no public counter available. Requests can only be submitted by mail and questions can only be answered by calling Customer Service; however, you may contact the County Recorder's Office in the county where the birth took place, which can provide a faster processing time than the state level and may allow walk ins.
If you have any questions, please call (916) 445-2684.