Florida Birth Records
How to Order Birth Certificates from Florida
Birth certificates for the state of Florida are handled by the State Office of Vital Statistics.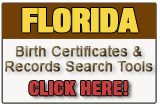 Please note that you are only able to order birth certificates for yourself, your spouse, or a child for whom you are the parent, guardian or legal representative. You must be at least 18 yeas of age and provide proof of your identity in the form of a copy of a valid government-issued photo ID, such as your driver's license, state-issued identification card, government issued employment identification, or passport.
Enlarge the copy of your ID and lighten it if needed to ensure it is clear and readable. Sign underneath it to verify that you are the requestor. If you are not ordering your own birth certificate, please make a notation on the copy of your ID of y our relationship to the person whose birth certificate you are requesting. Enclose a copy of any legal or supporting documentation such as guardianship papers or marriage license or certificate.
Please download the Florida birth certificate application and fill it out and mail with payment and a copy of your photo identification to:
Office of Vital Statistics

Attn: Customer Services
P.O. Box 210
Jacksonville, FL 32231-0042
The fees are as follows:

Computer generated copy of the original record with the embossed Seal of Florida. Accepted by all state and federal agencies as legal proof of birth and citizenship. Available from 1930 to present - Processing time 2-3 days.
A certification of the registered birth (1930 to present) on file. Processing time approximately 15 days.
Additional copies of the above certificates when ordered at the same time.

$9.00

$14.00

$4.00 each
These fees include postage for first class mail. Please call for rush/overnight fees.
Please do not send cash. Personal check or certified funds only.
Please call (904) 359-6900 prior to mailing to ensure that the fees have not changed since the publication of this document.
You may also present the form, payment, and ID in person to:
Office of Vital Statistics
1217 Pearl St.
Jacksonville, FL 32202
Hours of operation are M-F 8:00- 4:30
There are also 67 county health departments that can issue computer certification of the birth certificate for births beginning in 1930.
Additional information:
Per the Florida State Office of Vital Statistics' website, Florida has been issuing computer certification since the mid 1980's, which is accepted by the U.S. Passport Office, the Social Security Administration, courts, school districts, and all other state and federal entities and cruise lines requiring proof of U.S. birth. Florida's certification is a computer certification that contains an embossed seal incorporated into the safety paper, which meet requirements established by Homeland Security and other national and international groups. Many customers ask for a certification of their birth certificate with a raised seal. This type of certification is not available in Florida. Florida birth certificates DO NOT indicate City of Birth and therefore may not be acceptable documentation in obtaining a passport from certain countries. Please check with the country's consulate for passport requirements.
If you have any questions, please call (904) 359-6900.